9-5 got you stressed? Too many holiday to-dos and not enough time? Mind racing 100 kph about how you're going to cross everything off Santa's list? Sounds like your body needs a me moment. Don't worry, we've all been there. In fact, I find myself there on a weekly basis and nothing I was trying was actually working. Every time the Christmas holidays start to roll in, I start to feel anxious, tired and stressed. That's why I decided to do some research on how to get my body and mind back in check (without resorting to that glass of white wine in the fridge :P)
When you're all riled up, the blood flow in your body is restricted, causing your muscles to tense up, primarily in the neck, shoulders and lower back. You can't feel at ease and you're just straight up uncomfortable. And we don't want that, do we?
Turns out, a few simple stretches can do wonders when it comes to reducing stress. Here are a few easy stretches that decrease the production of stress hormones and will get you feeling like a holiday superhero.
Important to know: You should hold each of these stretches for 5-15 breaths and should close your eyes to avoid distractions. Visualize sending the breath towards the body parts you're stretching for maximum results.
The Frog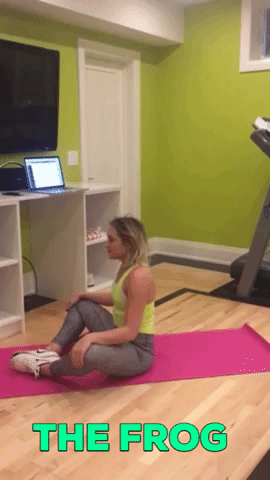 Can't sleep? Lie down on your back with your hands on your belly. Bend your knees and join the soles of your feet together. Take deep breaths into your hands and feel the weight of your knees dropping towards the floor. Too hard on your groin or knees? Place a small pillow underneath each knee.
Child's pose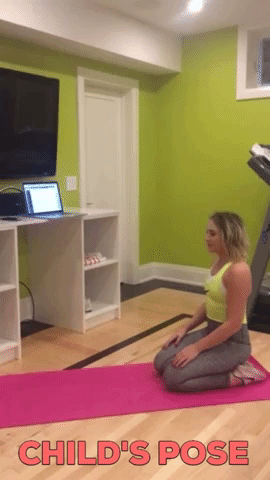 Can't focus? The standard yoga Child's Pose is what you need. Sit on your heels (wide apart), tuck your legs underneath you. Reach your arms in front of you, resting them right beside your ears.  Press the head down towards the floor and invite your mind to slow down!
Roll Down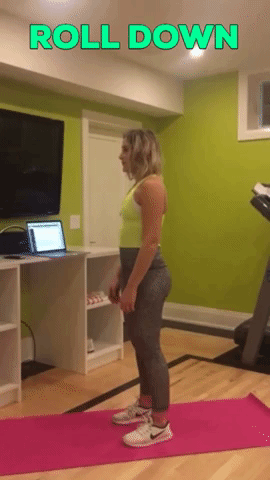 Feeling a bit imbalanced? Stand upright with a neutral spine, feet parallel and at hip width apart. Inhale. On the exhale, begin folding over your legs, starting by tucking your chin and rolling down by each vertebra as far as you can comfortably go. Arms should dangle in front of you with a relaxed neck and upper body. Stay there for 5 deep breaths. Inhale and begin to reverse the movement up, moving slowly, until you are back in a neutral standing position. Quick note: If you have tight hamstrings, it's okay to slightly bend at the knee. 
Figure 4 Stretch
Exhausted from sitting all day long at the office? You might find that you have crazy hip and lower back tension. Lay on the floor on your back. Place a small towel underneath your hips. Bend at the knees and lift directly over your hips. Cross one leg over the other. Thread your arms through to grab your thigh and gently pull towards you, stretching the crossed leg. Repeat on both sides.
Legs against wall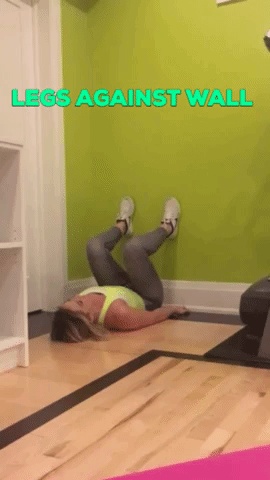 Need a nervous system slow down? Find a cozy spot against a wall. Lay on your back, scoot your bum forward and extend your legs with the heels touching the wall. Let your arms rest beside you or place them on your belly. Relax the thighbone down into the pelvis. Scoot your bum away from the wall if you experience discomfort.
Do you have any stress-busting stretches, exercises or tips to use throughout all the hustle and bustle of the Holidays? We'd love to hear them!