They say that you can't possibly know what real love feels like until you experience it yourself. That may be true, but that doesn't mean we aren't all forming some idea in our heads of what we expect love to be like. That vision is shaped by not only the relationships we see between our parents and other couples in our lives, but also love stories in the movies. Even Disney movies make love the central premise that the characters and plot revolve around. Ariel is willing to leave the only home she's known in order to be with Prince Eric. Belle is the only person capable of lifting the curse on the Beast. Basically, nothing is more powerful than love in the world of Disney.
As we get older, we realize that fairy tale versions of love are just that – fairy tales. But what about romantic comedies full of serendipitous moments and grand gestures? That's possible, right? A Heath Ledger-esque bad boy could totally sing "Can't Take My Eyes Off You" on the bleachers during soccer practice with the marching band backing him up. What's stopping a John Cusack lookalike from holding a boombox over his head and professing his love to you? Unlikely, maybe – but certainly possible.
The problem with aspiring to have a love life à la your fave romantic comedy is that movies only show a snapshot of a couple's story. They may be happily together in the end, but what happens after a year, 5 years, a couple kids and all the unexpected things life is sure to throw at them? Obviously, all that can't be squeezed into a 2 hour movie… and no one wants to watch that anyway.
A real relationship takes hard work and it's not always fun. There are rough patches, compromise and being there for each other even if you don't always want to be. It's being able to do nothing,  together. It's understanding and accepting each other's flaws and inspiring each other to be better. No two relationships are the same and they don't follow a tried-and-true formula like in the movies. Real life is messy and sometimes love doesn't conquer all. You might not end up with the person you expect. But no matter what happens, the good and the bad, it's all part of your story.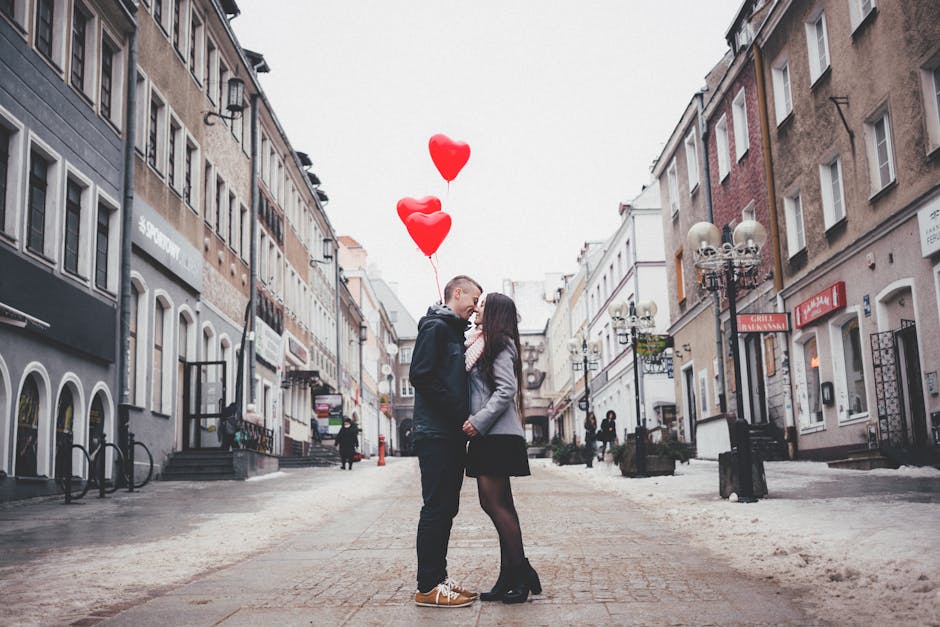 Plenty of people end up together because the timing is right, they both want the same things and it just makes sense. It might not be a whirlwind like Jack and Rose on the Titanic. It might not be fate like Noah and Ally in The Notebook. But it's real. Love can grow over time as you build a life together and get to know each other better than you know anyone else. In fact, that's how it should be.
Dating isn't easy these days. Thanks to online dating, you have more options—and more opportunities to be disappointed—than ever before. Take it from Drew Barrymore's character in He's Just Not That Into You:
"I had this guy leave me a voice mail at work so I called him at home and then he e-mailed me to my Blackberry and so I texted to his cell and then he e-mailed me to my home account and the whole thing just got out of control. And I miss the days when you had one phone number and one answering machine and that one answering machine has one cassette tape and that one cassette tape either had a message from a guy or it didn't. And now you just have to go around checking all these different portals just to get rejected by seven different technologies. It's exhausting."
Some movies hit modern dating on the head. You might get dumped by someone who isn't ready for anything serious only to find out that they're engaged to the person they met right after kicking you to the curb, just like Joseph Gordon-Levitt in 500 Days of Summer. You might actually fall for your friend with benefits and decide you should probably just start dating already just like Ashton Kutcher and Natalie Portman (and Justin Timberlake and Mila Kunis).
The point is, your love story isn't going to be exactly how you expect it to be and it's probably not going to be worthy of a Nicholas Sparks film-adaptation. But that doesn't make it any less epic to you–and that's what really matters.
Does your story rival the romance of a Shakespearean sonnet? Share it in the comments!